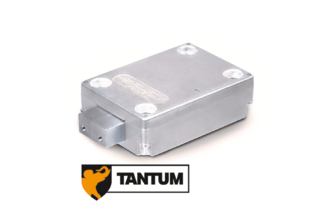 Tantum Basic
The new Tantum motor lock is unique in its kind. The Tantum motor lock is of a different order of magnitude within the current motor locks on the market. Not only does Tantum have 5 kg pulling power, it also has 5 kg pushing power. You can rightly call that robust extreme power! Coupled with an equally unique price/performance ratio, this makes it a multi-purpose lock. It is precisely the latter that makes it interesting to choose the Tantum motor lock, with all its advantages.

All Tantum parts are made of metal, which makes them stronger and more wear-resistant. The own production in the Netherlands with 100% final inspection guarantees the reliability and certainty of Tantum. Features such as silent alarm, which can also be programmed in the basic version; programming via the entry unit and the availability of an anti drill version, make Tantum unique in its kind!
Watch the Tantum animation here  and see for yourself where the enormous pulling and pushing power originates from or take a look at the brochure below.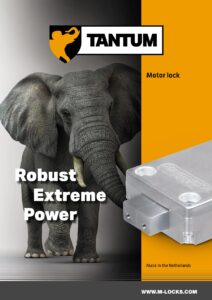 Our sales team can tell you everything about the Tantum! So if you want to know more about prices, order a sample or place an order, send an e-mail to sales@m-locks.com or contact your own M-LOCKS sales representative. They are ready for you!
To be combined with
Tantum Basic can be combined with the following entry-units:

EuroClass
EuroLine Series
ST Series

Certifications

| | |
| --- | --- |
| VdS | Klasse 2 |
| EN 1300 | Class B |

| | |
| --- | --- |
| IMP | Klasa wyrobu -B- |
| SBSC | Class B (SS 3880:2015) |
| A2P | Class B |

Article numbers

| | |
| --- | --- |
| 09100000 | Tantum Basic |
| 09101000 | Tantum Basic anti drill |